There's no way around it; you're stuck.
Your home needs a lot of work, and you can't afford to fix it up. You want to list it, but who's going to buy a money pit?
There are things you can do to make your home more attractive to potential buyers without spending your life savings. There are also ways to get around making any investment and not forking over one single penny.
Can You Sell A House That Needs Repairs?
Just because your home needs renovations doesn't mean you can't sell it. There are ways around paying for big-ticket fixes. We're going to explore what it would take for you to make some minor repairs, apply for a home improvement grant, or sell the house as-is.
Before you get started, let's consider not only your options for selling a home that needs repairs, but also your buyer. Are you going to be listing your home or selling it as a fixer upper?
If you are listing your home, you will probably need to make some repairs prior to listing. However, if you are selling it to someone who will be doing the work, you might not get the highest offer for your home, but you won't have to do any work to prepare the home for the sale.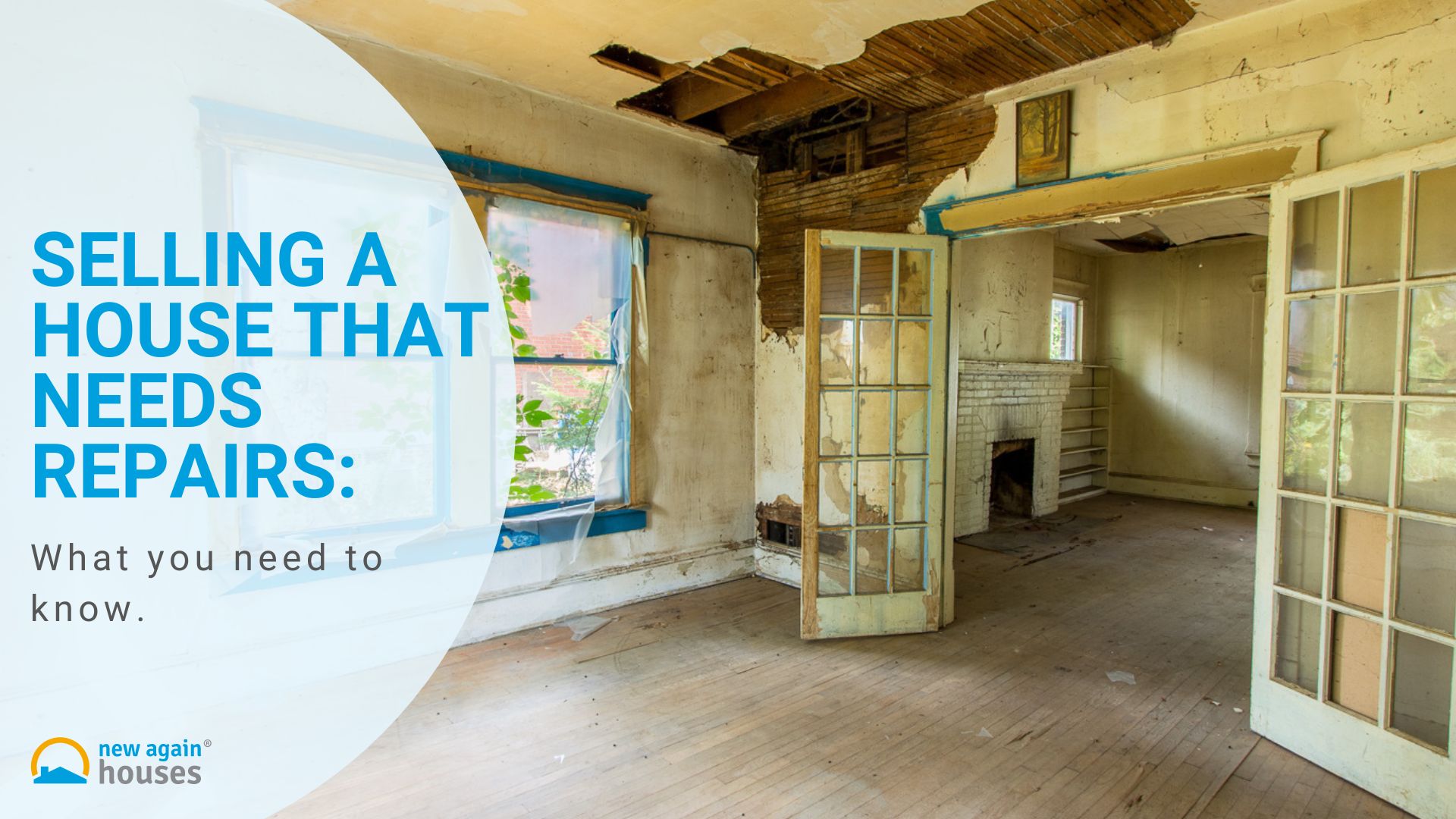 Your options for selling a home that needs repairs.
1. Make Some Minor Repairs
A home inspection is not always needed, especially when you are selling your home as-is, but if you want to get a good idea of the repairs you would need to make to your home, this is a good place to start.
If you can't afford major repairs, focus on the minor fixes that may make the home more attractive to potential buyers. Tasks like adding fresh paint, installing new hardware, and updating the bathroom don't have to cost a lot of money.
Curb appeal is a good place to start. First impressions matter. If a potential buyer falls in love with the exterior of the home, they may be willing to invest the money to make it look good on the inside, too. Simple activities like power washing your driveway or trimming back overgrown bushes can make a difference.
Making your home look bigger to potential buyers can also up the "wow" factor. Declutter your space, organize your belongings, and remove old furniture.
2. Get a Home Improvement Grant
You may be eligible for a government-sponsored home improvement grant to update your property. This is not a loan, so you don't have to pay the money back.
A good place to start looking for a home repair grant is your local Housing and Urban Development (HUD) office. The HOME Investment Partnerships Program, for example, is designed for low-income homeowners. Organizations such as the National Residential Improvement Association and the U.S. Department of Agriculture (USDA) also distribute home improvement grants.
Eligibility and requirements vary depending on which home repair grant you're applying for. The details are usually tied to income, location, and the type of project. The USDA requires the property to be in a designated rural area and the money to be used to address health and safety concerns or improve accessibility.
3. Sell Your Home As-Is
It's not impossible to sell your house as-is. Some buyers look for houses that need work so they can renovate and resell. Or they just like getting their hands dirty with a challenging project.
If you're working with a real estate agent to sell your home as is, you'll have to give them (and potential buyers) full disclosure on what's wrong with it. You will likely get less money than you were hoping for.
The way to best market your fixer-upper is to focus on the positives. Features like a great location, a huge lot, and an open floor plan can overcome the negative aspects. Be sure to price it appropriately and be aware of whether you're selling in a buyer's or a seller's market. Pay attention to your listing description and use attention-grabbing keywords such as "updated" and "landscaped."
4. Sell Your Home to a Cash Buyer
When you sell your home to a cash buyer, there are no repairs to be made. There's not a lot of back and forth on the asking price. And there's little time wasted waiting for the deal to go through.
Selling to a cash buyer is a quick process that allows you to get rid of your home and put money in your pocket. The steps are simple:
You contact the cash buyer.

They evaluate the home.

A fair cash offer is made.
From there, the closing process can take less than a week. You don't even have to move out the contents of the home if you don't want to, which is a great benefit if you've inherited a property.
Have Questions About Selling a Home That Needs Repairs?
Q: Can I sell my house without making repairs?
A: Yes! Homes can be sold in as-is condition, but you will need to disclose what is wrong with the property. You can either list your home for a lower price, or skip the listing process entirely and sell your home to a cash buyer.
Q: Can I sell a house with foundation issues?
A: Yes. Keep in mind that foundation repairs can be pricey, so if you are selling your home to someone who is going to be remodeling it, that will be factored into their offer. In this situation, you are most likely to be able to sell your home to someone who will remodel it instead of a younger family looking for a deal.
Q: What stops a house from selling?
A: Many factors can come into play here, such as location, lot size, condition of the home, pets, or simply being overpriced for the market. Remember to be reasonable when pricing your home for the market!
New Again Houses® buys houses as-is in any condition, and transforms them into fully remodeled homes families can enjoy for years to come. If you need to sell your house fast, you can trust us to make you a fast and fair cash offer for your home.
We buy houses and transform them into fully remodeled homes.
Get a fast & fair offer for your home and close at your convenience.