In order to give you some insight into buying and selling homes in Mesa, AZ, and surrounding areas, we sat down with Douglas Neil, the Mesa New Again Houses® franchise owner, to get his unique perspective.
Meet our Mesa, Arizona expert:
From plumber and handyman to spending 10 years as an officer in the United States Air Force, Doug has a wide range of career experience. Now that Doug and his family have settled back in their hometown of Mesa, Arizona, they are eager to embark on a real estate journey with New Again Houses. In fact, they are the proud owners of the first franchise location west of the Mississippi! Doug's approach to business is grounded in his strong connections with his loved ones and clients, and he is recognized for his unwavering commitment to delivering high-quality workmanship, which is clearly evident in the houses he sells.
Where we buy & sell homes in the Mesa area:
Mesa New Again Houses services "The Valley," Mesa, Tempe, Phoenix, and Goodyear. The city of Mesa is the center of the territory.
What makes Mesa special or unique?
One thing that makes Mesa and the whole state of Arizona so special is the variety of activities and population. In Mesa, you really have a mix of everything and everyone, and it makes it so much fun to live here. You can spend all day hiking and eating at the best restaurants and then drive the family 30 minutes outside of the city limits to enjoy the most amazing stargazing. The state features beautiful lakes and rivers to cool you off in the summer and then a 45-minute drive up to the snow in the winter. It is truly a unique place and I feel really lucky to have been able to grow up here.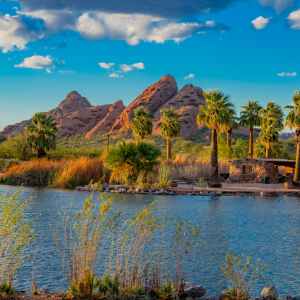 Any local trends you're seeing in Mesa?
Due to the amazing weather, Mesa and Arizona in general have always seen a lot of growth. Tech companies and startups flock to the Valley which brings a lot of growth. This trend has sped up in the last 15-20 years and the Valley continues to expand to match the demand. Areas like Queen Creek and Buckeye are the most likely to see newer communities being built and are where the more affordable houses are currently found, especially in the last couple of years following the pandemic.
How are current market conditions impacting Arizona?
The current market is slowing a little bit. I wouldn't say that a full shift to a "buyer's market" has occurred though, especially since the interest rates are nearly triple what they were just over a year ago. That being said, we are watching the market very closely and have to pay close attention to what we are willing to spend on any given property.
Our prices are competitive, but the market in the Valley is considered a little bit higher risk right now for investors, so we do have to account for that. We do not change our prices after we make an offer, so we are very thorough with our walkthrough and our repair estimates. This ensures that our clients can be confident when working with us. Trust goes a long way.
How many houses have you purchased in the Mesa area?
I spent almost a decade on active duty with the Air Force, so we have purchased quite a few homes on the private side across the country. Add that to the growing amount of business purchases in Mesa and the number of homes we have purchased is a lot!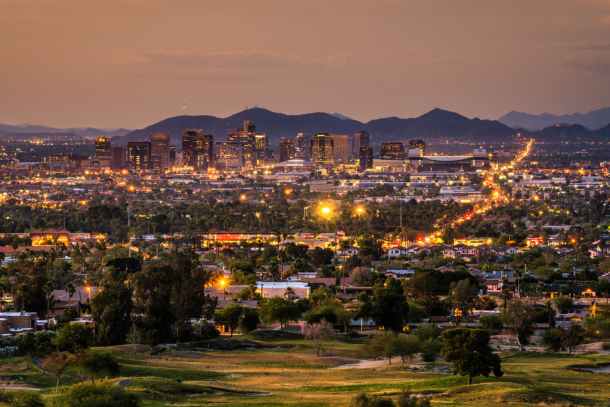 What's the one thing you are most proud of?
Of any award I have ever received, I am most proud of an award I received at the end of my third deployment from my teammates while in the Air Force. I was awarded "Wingman of the Deployment" which came from taking care of my brothers and sisters in arms. They trusted that I had their backs and although I do not feel that I did anything special, I do try to take care of people as well as I can.
I will always be honest and open with others. In this business, I have talked a few clients out of doing a deal with me simply because they were going to benefit more from listing their house with a realtor as opposed to accepting a cash offer. Yes, I lost those deals, but garnered those
clients' appreciation for the honesty. Cash offers are not always the best solution for sellers, but I do enjoy how simple I can make the selling process for those that just want a fair price and an
easy solution. I have been told multiple times, "Selling the house to you guys was the easiest part of our move!" That is a win-win.
What's the one thing you dislike most about having to sell a house?
We just sold our house, and I can say that the amount of repairs add up—not just in money, but in time. We spent thousands doing all the minor repairs which took almost a month and added up to a large amount of money in the end. Additionally, showings while you are living in the house are such a pain. We have four children and trying to keep the house "show ready" is a nearly impossible task. It was all really stressful.
What's one of the most memorable projects you've worked on and why?
The most memorable project I worked on was the first home that I flipped in Mesa back in 2008. I purchased a home in our neighborhood where I grew up, and true to the name, we made that house almost new. I didn't have much money, so I ended up doing the majority of the work myself. I replaced most of the sewer system, re-piped the entire house, replaced most of the electrical, and gave it a new exterior. I probably should have just bulldozed the lot and started from scratch, but I learned so much from that project and the experienced gained was and still is invaluable.
What is your personal guarantee that would make a seller in Mesa want to do business with you?
I personally guarantee that I will be honest and open with anyone I am doing business with. I do not agree with the statement that many make when it comes to money, "it's just business..." I make my business personal, and my client's trust is more important than a little extra money.
Looking to Sell Your Home for Cash in Mesa, AZ?
Work with New Again Houses and stop stressing about waiting, contingencies, banks, and cleaning up the house. We buy houses with cash and can close in as little as 7 days—and
we also pay all closing costs, help with the probate process, and solve all the problems you run into when selling a property.
New Again Houses® was founded in 2008 as a way to transform old houses into new modern homes through a culture of innovation, ownership, and win-win relationships. For homeowners looking to sell their home fast and sell their home for cash in Mesa, AZ and surrounding areas,
Mesa New Again Houses is the perfect place to get started! Contact Douglas Neil today and sell your house in any condition!
We buy houses and transform them into fully remodeled homes.
Get a fast & fair offer for your home and close at your convenience.